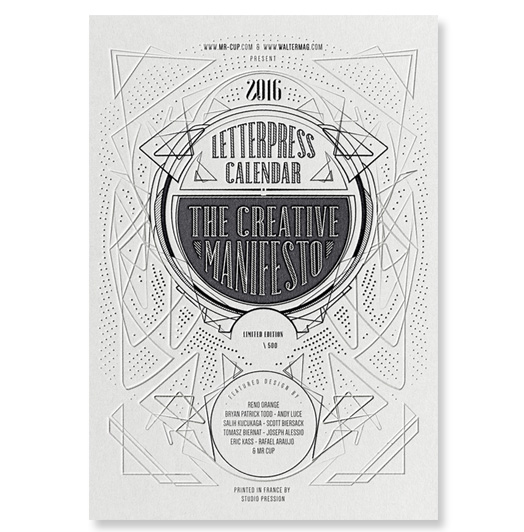 2016 Letterpress calendar normal edition
The price with the
current options is
Be creative in 2016 following every month words of wisdom of the Mr Cup creative manifesto letterpress calendar. Limited to 500 copies, it is composed of 14 cards (20x14 cm) printed on 700g french paper. It is a hand numbered limited edition. This is the normal edition with black and white cover printer on white paper.
The front cover has been designed by Renaud Orange who already work on the past year edition. We wanted a modern art nouveau ! For this year edition, I ask graphic designer and typographer to create unique font work : Mark Van Leeuwn, Bryan Patrick Todd, Andy Luce, Scott Biersack, Tomasz Biernat, Eric Kass, Joseph Alessio, Salih Kucukaga & Rafael Araujo.
If you order the calendar only, post costs would be France : 3,9€ / Europe : 5,9€ / World : 8,9€
All orders are charged in Euros. However, the actual exchange rate used will be set by PayPal or your bank when you pay for your order. Other currency estimates can be obtained from www.xe.com / To convert sizes : inch to cm tool. For any other information, please contact us.
Worldwide secure payments :