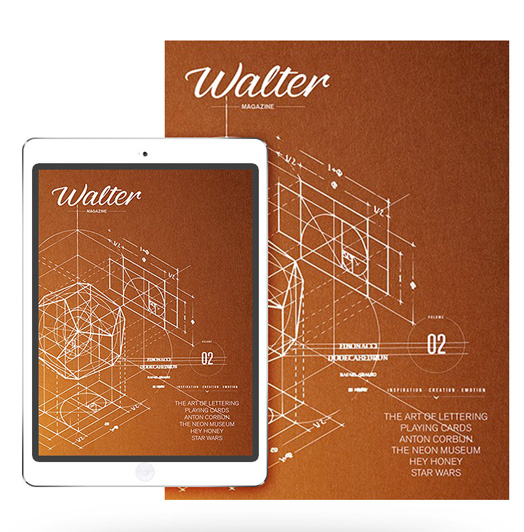 Walter vol 2 - PRINT + DIGITAL
The price with the
current options is
Nevertheless Walter Magazine is not the printed replica of my blog, it is an improved and expanded version of the online content. I will share a closer look on projects I love and my interviews with Singapour designers and Piers Faccini, a complete artist whose music and pictural art move me deeply. Most of all I would love to see this graphic design magazine in the hands of everyone because graphic design and creation are everywhere: in a film opening title, a cup of coffee, a product you wish to purchase or direction signs. We live in a dematerialized era: books, music, everything is dematerialized! Still vinyls are more and more sold and customers want to know where their coffee is coming from and who roasted it. We want authentic, tactile and visible things.
Walter is a quarterly magazine limited to 3,852 copies (1883 + 1969, dates of birth and death of Walter Gropius). The texts are in English and French. To subscribe to future issues, please check dedicated web site www.waltermag.com
All orders are charged in Euros. However, the actual exchange rate used will be set by PayPal or your bank when you pay for your order. Other currency estimates can be obtained from www.xe.com / To convert sizes : inch to cm tool. For any other information, please contact us.
Worldwide secure payments :