Who is Mr CUP ?
It's very hard to speak about myself... I always prefer to let my work, my creations speak for me... Here is a biography written about me in a recent design book.
Fabien Barral is a happy graphic designer whose innovative and unique designs attract clients from around the world. In 2008 he joined forces with his wife Frédérique to create "Harmonie intérieure", a business and brand that pushes poster and wall sticker design beyond the limits we expect from a commercial undertaking. Fabien also runs the "graphic-exchange" blog, a popular online venue for graphic designers. He learnt his trade as an agency art director, working on projects for large corporations. For him, relationships and exchange of ideas are the most important to achieve a project. After years working under his own name, it is now under Mr-Cup pseudonym that he develops his own products : letterpress calendars, coasters... In 2012, he visits, with family, Thaïland, Singapore and Bali to see what life can offer, share experience with other designers and to met craftsmen to work with them on new products... After 1 year and half of a hobo life, he is now back in France.
1998/2002
The first
years
june 1998
Diploma in Visual communication . option branding . Montpellier . France
sept. 1998
Freelance experience associated to Reno Orange, under the name «1 prise de têtes»
sept. 1999
Fall in love with Frédérique
june 2001
Celebration of wedding
august 2001
Lauch of first web portfolio, under the name Imaginary moments
oct. 2001
Move to Toulouse . France
jan. 2002
Move to Clermont-Ferrand . France
2002/2007
the mediafix
years
feb. 2002
Art director at mediafix agency . Clermont-Ferrand . France
nov. 2003
Welcome Thaïs, our daughter, in our life
sept. 2004
Buy and renovate a house in the country side of Auvergne . France
march 2006
First projects done with moreyellow.com . Los Angeles
june . 2006
Starting graphic-exchange.com blog
feb. 2007
Became freelance graphic designer and launch fabienbarral.com
2007/2011
the freelance
years
june 2007
Was commissioned to redesign the rollingstones.com web site, but the project was cancelled
oct. 2008
Launch harmonie-interieure.com, online shop of self designed wall stickers and posters
jan. 2009
Designs first business card for letterpress printing
aug. 2009
Move back to the south of France (Euzet, near Uzès and then Monteils) . France
sept. 2010
Creation of a letterpress calendar, sold only on a dedicated web site letterpress-calendar.com
oct. 2010
Invited by Icograda to do a talk in Brisbane, Australia
feb. 2011
Met Laurent Dubois, and work on the D&B project to develop fabric home decorative items
aug. 2011
Invited by Sansori to do a students workshop with Amersth, USA
2012
Reboot myself
nov. 2011
Start rebranding himself under the name Mr Cup & second edition of the letterpress calendar
may 2012
Vists to Thaïland & Bali during 2 months to found craftsmen to develop new projects
sept. 2012
Moving to Bali again to live in the creative city of Ubud, visit designers in Singapore
may. 2013
Moving back to France
nov. 2013
3nd edition of the letterpress calendar, printed in spain by
elcalotipo.com
feb. 2014
Launch with his wife
www.niepi.fr
, the first french gluten free way of life magazine. Released every season.
nov. 2014
4th issue of the letterpress calendar, with pages designed by worldwide designers, printed in france by
studiopression.com
2015
Walter Magazine
jan. 2015
Start an association with mediafix.net to released Walter magazine, a design magazine based on the blog content
apr. 2015
The Walter magazine is succefully crowdfunded on ulule and launch at
waltermag.com
sept. 2015
The first volume of Walter is printed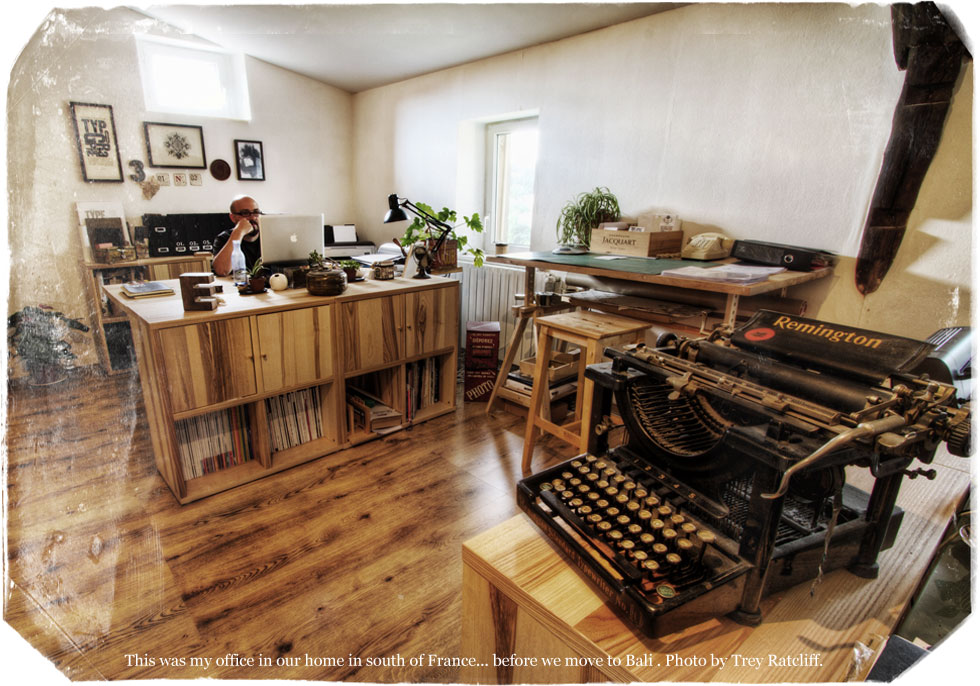 interview

Over the years, I've been given the chance to be interviewed for many magazines and blogs... the same questions come back all the time. If you want to know more about me, I figure that this would be a good way...



How did you get started in design and graphics?

School was not my cup of tea, and I always felt stupid learning things I didn't care about. At the end of my schooling, there was a forum presenting working life to young people. I discovered this amazing school where you were taught how to design magazines and CD sleeves. That's a job for me I thought? I sigh up, and loved every moment. Since then I have never stopped developing what I was taught back in those days. It wasn't that long ago but the era of communication has since then developed so dramatically, at that time internet was hardly known, not mentioning Photoshop!

What inspires you? Who do you look to for visual inspiration?

I am that kind of designer who needs to see thousands and thousands of images before going into the creative phase. Most of the time I do mood-boards which I love, then I feature the project, and when I am not on the computer – driving, walking in the street – images and concepts come to my mind. I don't really know how, but it happens. Sincerely, it also happens when I fall asleep: not when I sleep, when I fall asleep. This curious moment where you are not awake but not gone enough to not remember...

Also, I remember reading a Michael Stipe interview (REM lead singer). He said that when he started to record a new album he needed to listen to the old one to be sure he can do it again. I feel the same, I need to have an updated portfolio to check what I have done to make me feel confident. The creative phase is always difficult and full of doubts; I hate this feeling.

The words Creation, Emotion and Inspiration occur repeatedly throughout your work. Why do you use these words?

Because they sum up the creative project as a circle. When you feel a positive emotion, by seeing an image for example, it inspires you. When you feel inspired you can create, and your creation can give an emotion to someone, who will be inspired and create again and again. Also, it is important to know you can be creative in everything, not only in design.
You can be creative with cooking, in giving a gift to someone when he doesn't expect it, etc...

What are your favorite typefaces to use?

I have many. I get this question every 3 days. My definitive favorite is Disturbance, the one in my fb logo, and you can get it on FontShop.

Your work is very inky, very splattered. What is your typical process? How much of this is digital?

My wife is also a painter, and she is the best for inky things. When I have something in mind, I simply tell her and she does amazing stuff that I can scan and integrate in my work.

Many of your posters and wall stickers have design statements and design mottos. How do you come up with them?

I always like these short sentences that tell you simple things. Over the years I have remembered a lot of them, and, as I am a designer, of course, particularly ones related to design. I can't come back to each one, especially as I have no idea where I read them first. Some have a nice story :
The best designers are the ones who find good clients : it is very important for me, because without good clients you can't do good projects. I read this one in an interview with the French designer duet Antoine & Manuel.

Imagination is more important than knowledge : said by Albert Einstein. We all know he was a genius, but he always said that if he did not imagine the impossible, he could not prove it.

What was the motivation and inspiration behind Harmonie Intérieure?

In 2007, with my wife, Frédérique, we decided to start our online shop. We founded the company, the visuals and the products. And like my clients today, we needed an identity. "Harmonie Intérieure" was born. We put in the project everything we had in mind at that time, things that had never found their right place before. Over the years I have accumulated a big deal of resources: photos, textures, and old papers.


I buy most of this stuff at second-hand markets. Then I scan what seems interesting to me. I love books, especially the very old and damaged ones because I know they will provide great textures. The sellers think I'm crazy to want to buy them so I get extremely good deals! This constant research of materials gives me unique tools for my creations. Gradually we designed all these wall stickers. Most of them are font works, I love to have messages on the wall, and it works!

What gave you the idea to start Graphic Exchange?

I was looking for a way to organize all the images that inspired me. Also, I was sad to see that some websites disappeared. (The one by Jennifer Sterling, for example. A lot of people contact me because my site was the only place where you can see her amazing work.) With the usual blog you have a link to a site and you have to find out by yourself whether you like or not. My idea was to have the images directly on the site. It demands a lot of work, but it's so useful!

What have you learned by running it?

That the best way for being recongized is to talk about other people, not yourself! It is the same in everyday life: if you show interest to someone, if you listen to him, your relation will have a good base. That's why most submissions do not work.

So, why Mr Cup ?

Running several sites was just too much to handle. I needed to put all my projects under a same name. It took me months to find a name. Mr Cup came to my mind when we were developing this project with my friend Reno Orange back in 1998's, a small magazine that people could enjoy with their morning coffee. Mr Cup seemed appropriate ! Founding an url in 6 signs available in 2012 motivated me. I wanted something short, and easy to remember.

Also, Mr Cup came from a REM video, it's the name Michael Stipe uses to check his messages at his hotel ;)
want to know more ?