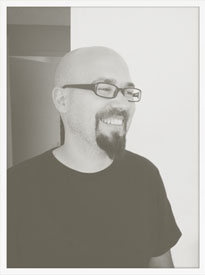 Who is Mr CUP ?
Fabien Barral is a happy graphic designer whose innovative and unique designs attract clients from around the world. He runs the "graphic-exchange" blog, a popular online venue for graphic designers. He learnt his trade as an agency art director, working on projects for large corporations. For him, relationships and exchange of ideas are the most important to achieve a project. After years working under his own name, it is now under Mr-Cup pseudonym that he develops his own products : letterpress calendars, coasters... In 2012, he visits, with family, Thaïland, Singapore and Bali to see what life can offer, share experience with other designers and to met craftsmen to work with them on new products... After 1 year and half of a hobo life, he was back in France and in 2015 he opens his studio in Arles, France, where he works on commissionned project as well as his own production : Walter magazine, Letterpress calendar, playings cards he sell in his mrcup-shop.com.
BLOG SUBMISSIONS
I am always happy to be surprised by a submited project. Submission must be sent to [email protected] only. But please follow these rules :
stay consistant with the content of this blog
send me only one image and just point me to your project... I will contact you if I like it.
I do receive a lot of emails, so I just quick review them, and will delete them if you do not follow this rules. I do apologize to be unable to respond to your email !
SNAIL MAIL
I love good print and nice paper as you know ! If you'd like send something, please use
BARRAL CREATIONS, 17 rue des serpolets, 34790 Grabels, France