Back in october, I told you about
my meeting with the Yak magazine
, an amazing Bali magazine focusing on creativity on the island, from design to fasion, food or hotel... What I did not tell is that they interview me about my current projects and I am now feature in the current issue.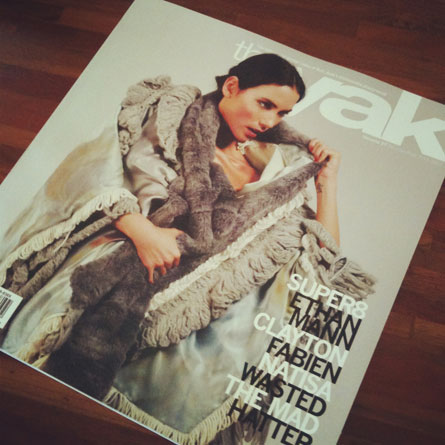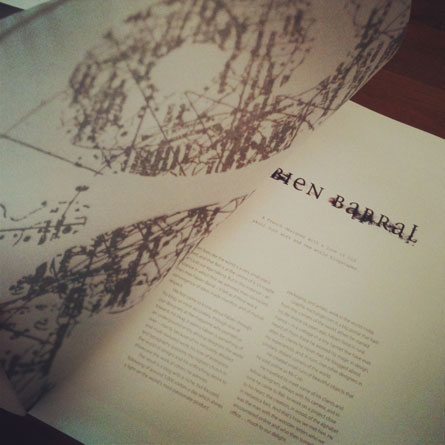 As it won't be easy for you to get a copy of it, here comes the interview
from their blog
:
It often feels like the world is a very small place indeed, and that Bali is at the centre of it. Or maybe that's just our ego talking. But in this instance – an instance in which first we admired, then contacted, then met Fabien Barral – it felt as if there was a convergence of ideas made manifest, and of mutual respect.
We first came to know about Fabien through his blog, or more accurately, through one of our designers at the magazine who pointed us towards his blog. It seems Fabien is something of an underground entity among designers the world over – mainly because of his intricately detailed and multi-textured work; his love of letterpress and typography (possibly the highest church in the world of design) and his unflinching desire to showcase the work of others he admires. The result is a blog with a niche, but focused, following of around 5,000 visitors a day which shines a light on the world's most passionate product packaging, and artistic work in the world today.

Graphic-exchange.com is a big portal that hails from tiny corners of the world. When he started his life online six years ago, Fabien lived in rural France – in a cottage in a tiny hamlet few have ever heard of. From there he worked his magic in design, often for clients he never met. He blogged about his experiences, and, in turn, met other designers in similarly distant corners of the world. He created small runs of beautiful objects that he sold online as Mr-Cup. He travelled to meet some of his clients and fellow designers, always with his camera, and in time he came to Bali, to work on a project close to his heart: the creation, in wood, of the alphabet in Helvetica font. And that's how we met him. He was the man with the wooden letters who we encountered online and who then turned up at our office … much to our delight.

Fabien, have you moved permanently to Bali or is this just a flying visit?
I first came here in May for one month to take a look … it followed a month in Thailand. We – my wife and nine-year-old daughter – loved it. So we decided to come back for more – three months first and then we'll see …

What do you find inspirational about the island?
Inspiration is everywhere Art is so "normal" in Balinese culture. Take most of the craftsmen you find here and put them in Europe and they will be called artists. The aim of my first travel in Thailand and Bali was to find craftsmen to work with … and it was so easy here.

What have you been doing while in Bali?
I mainly stay in Ubud. I am a working traveller, so am in front of my computer a lot. The good thing is that here it can be a different place everyday … I have tested enough places now in Ubud that I choose one depending on what kind of work I want to do, and on the speed of the Wi-Fi connection. When I first visited I spent a day a week to find craftsmen to develop products. I found a great woodworker in Ubud and developed a collection of wooden Helevetica letters with him.

Let's talk about your blog. It's become quite a thing … how did you start it and how has it grown?
I started it back in 2006, at a time when blogs were not what they are now. I am the kind of designer that needs to be fed with thousands of images to get inspired, so I used to put all the things that inspired me in my computer … but it was hard to order them. So I figured out I could do a website with them. The main difference with other blogs is that mine presents all the images I like for a subject. The first idea was to do real graphic exchange with designers I admire – I send you my printed work, you send me yours … The blog is now visited by 5,000 to 6,000 people a day.

Yours is a very modern internet story … it wouldn't have been possible 20 years ago. Were you classically trained as a designer? What's your backstory?
I went to design school and tried working for myself before getting hired by an agency – became an art director, got married, bought a house, had a child … the normal life. Then a U.S. agency told me they liked my work and wanted me to work on a project … then two, then three. But I was not happy working for big clients that do not understand what design means to me. My wife and I figured out we could do our own thing – to open a shop and produce on demand.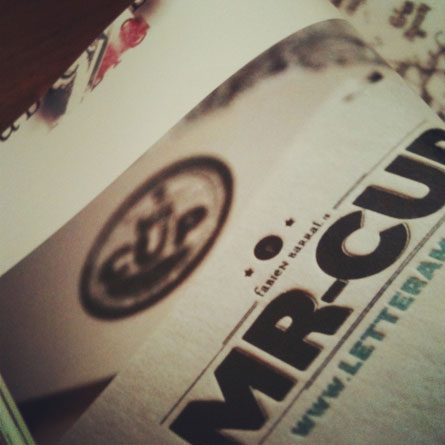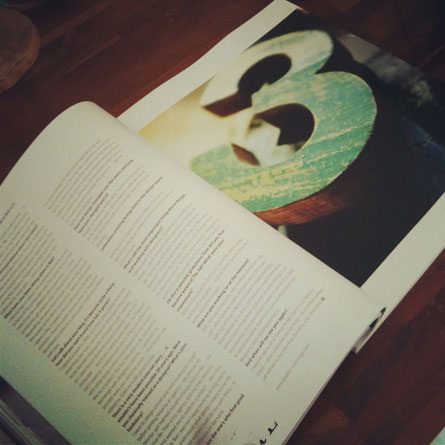 The best designers are the one's who find good clients. Discuss.
For some people the best client might be a big fast food company, but from my own experience, it was the worst. So the good client if for me the one that lets you express yourself, but in a way you would have not found by yourself. You will never tell the dentist which tool s/he should use and how s/he should use it … do the same with a designer.

How has design changed over the years, and how have you changed with it?
Design is changing all the time. There is a strong trend to do old-type work – going back to what was done in the '20s to '50s, with no computer and with hand lettering.
Letterpress printing brings that to the design world … And as this is a trend. I need to follow it in some way as my clients are looking for this, consciously or unconsciously.

What's still the most important thing about design, and working with designers?
Clients need to trust them. Speaking for myself, I live design. I check designers and agencies websites all day. I know type and color. Everything I look for is analysed – from the packaging in a shop to the menu in a restaurant (by the way, there is a lot of work to do in Ubud for menus). So if you ask a graphic designer to work on your project, do not try to choose the font …

Ok this is possibly gratuitous: how did you first become aware of The Yak? What were your impressions?
When visiting Bali the first time, I saw The Yak in a bar and found it so great … a lot of white space; nice font works, beautiful images …

What are you working on at the moment?
Well, the big thing is my new website www.mr-cup.com. After working under my own name for years, I want something different to have a shop/portfolio/blog website, all in one. I will sell the wood Helevetica letters I have made here, and a lot of other things. I am also working on a new project made in wood, but need to sell all the other items first. I just want to have fun designing and creating products.

And when will we see you again?
I need to see a lot of things in Bali, but it is so easy to travel – other countries are so close. I don't know where we will be in the next few months, and I love that.